The photos on Unsplash generate tremendous reach not only on the platform alone or the numerous other websites and media on which they are used. Software developers can also access an extensive programming interface to integrate the huge image database directly into their applications. In this way, photos uploaded to Unsplash appear in a whole new environment – and brands are offered an unimagined advertising space.
According to its own information, the Unsplash API processes over 1.5 billion requests per month with more than 18,000 registered applications. Conveniently, images can be imported via interface not only in full resolution, but also in reduced quality, resulting in a variety of use cases. Be it in content management systems like WordPress, which is also used on this website, in video conferencing software like Zoom or office programs like Google Slides. We present ten examples in which Unsplash makes it easier to quickly access high-quality image material.
You are a developer yourself and want to integrate Unsplash into one of your projects? Then you can find all the information at unsplash.com/developers. For up to 5,000 monthly queries the API is completely free of charge, above that you have to contact Unsplash yourself.
1. Zoom
At least since the Corona pandemic, even people who are not on the Internet all day for work have heard of Zoom. The software, which is widely used worldwide for video conferencing, whether one-on-one or with an entire group, is used in both companies and schools. But people may not always want to reveal the actual background of their private living rooms or other environments. This is where Zoom's virtual background comes in handy, automatically cropping out the person in front of the camera during the video. With one click, you can then insert Unsplash photos of a tropical island, a dense forest or other scenery.
2. Medium
Medium is a blogging platform where users can publish articles on completely different topics. Some even earn money by putting their content behind a paywall. But for an article to be clicked on in the first place, it needs meaningful visual support. Thanks to the integration of Unsplash, the million-dollar database is available directly in the editor.
3. Google Slides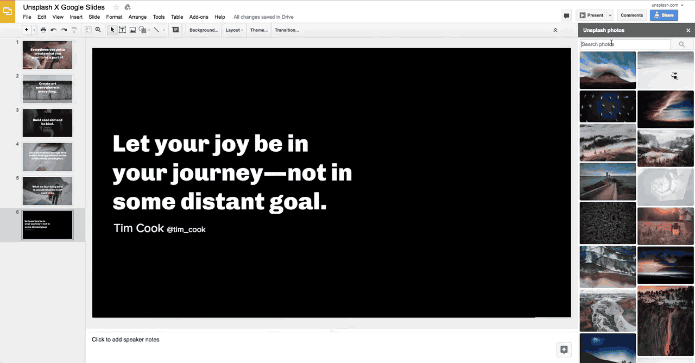 To create presentations at school, for work or privately, Google Slides is a free and comprehensive solution. Provided there is Internet access, presentations are always saved in the cloud so that no data can be lost. In addition, they can be edited via a browser, regardless of the device or program installation. But everyone has probably seen a boring, dry presentation and thought: A few pictures would have done wonders. With Unsplash, any presentation can be embellished with high-resolution, versatile images in no time at all – and in full compliance with the law, without citing the source.
4. Trello
Especially for project planning, Trello is a practical tool and one of the most popular in its class. The clear Kanban boards let you keep a perfect eye on every status. While the boards are often only provided with text, certain tasks can be easily highlighted with images and altogether brightened up.
5. Squarespace
Especially due to its aggressive influencer advertising, the website builder Squarespace has almost reached cult status. If you don't want to hire an agency to create a website, if you like to invest some time in the design, but still want to achieve a well-rounded result, this is a popular address. Since according to the Unsplash license, commercial use is also permitted, countless website operators rely on the diverse offerings of the Unsplash library.
6. Buzzfeed
Buzzfeed not only has a veritable reputation as an outlet for investigative research. Above all, the editorial team reaches hundreds of thousands of people every day with entertainment content such as quizzes. To this end, Buzzfeed has built its own tool for creating such widgets and relies on the many photos from the Unsplash community for its imagery. Bonus points are awarded because the authors are often even credited.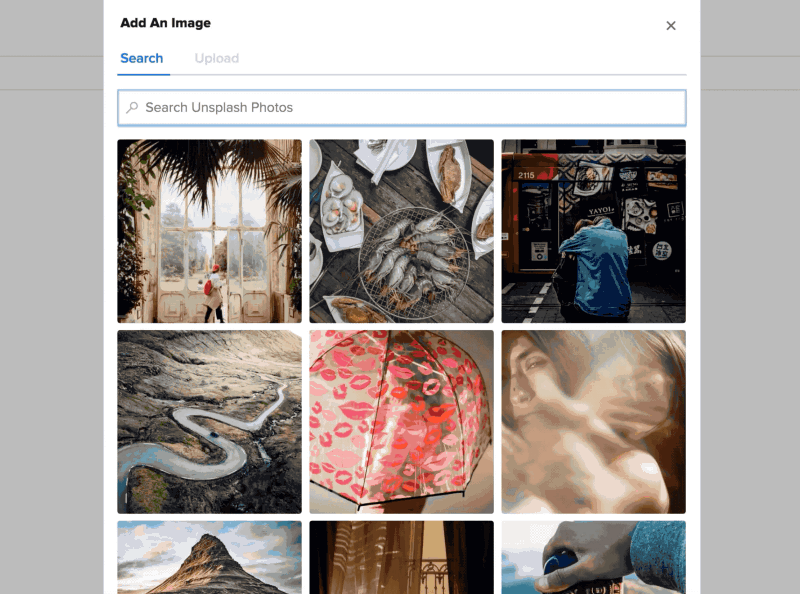 7. Mailchimp
Anyone who thinks that newsletters are a sales channel of days long gone has probably not been following the latest trends. The email inbox is still a place where many people spend a lot of time and newsletters are therefore as relevant as ever. One of the most popular providers to even start your own newsletter for free is Mailchimp. Here, too, emails can be enhanced with photos from Unsplash without having to take a detour via the website.
8. Notion
Anyone who uses digital tools for planning and organizing various areas of life and work will not be able to avoid Notion. The program, which is mostly free of charge, is an incredibly versatile helper that is available for private, study and work. Notion combines very different capabilities, from a to-do list to a content management system to a calendar. Images from Unsplash can be inserted into workspaces in Notion with one click. And even people who want to create and sell templates for Notion don't miss out thanks to Unsplash's commercially usable license.
9. Figma
Adobe, among others, is getting competition from the powerful Figma for prototyping apps and websites. The tool is operated entirely in the browser, but does not skimp on functions. Beyond the basic functions, plugins from third-party providers can be easily installed, which expand the range of functions many times over. This includes one from Unsplash, which is a perfect addition especially for demo purposes with its countless visuals.
10. Stickermule
While the previous examples were exclusively digital products, photos from Unsplash also sometimes make the leap from screen to something you can hold in your hands. One such way is in the form of a sticker, for example, which Stickermule sells by the thousands. Anyone who wants to create stickers but can't fall back on their own image material will find a successful alternative in Unsplash.